Central Park West Resale Market is a Buyer's Market
Posted by Veronica Hicks | DRE 01443184 on Monday, September 16, 2019 at 12:38 PM
By Veronica Hicks | DRE 01443184 / September 16, 2019
Comment
All the indicators of Veronica's latest
resale market update for Central Park West
shows that the market may have peaked in 2018 and is trending downward. The Central Park West resale market appears to be impacted by the new development by developer Lennar.
Average Sales Prices: peaked in 2018 at $822K, up nearly 8% from the prior year on a 12 month rolling basis. At the end of August, average sales prices dipped to $724K, down nearly 12% from the previous year. While some of the price declines in CPW could be driven by the size of the homes sold, there seems to be a decline in average prices for the entire area as the 92612 average sale price declined 5% to $683K while OC and Irvine Condos have continued to push up with price increases.

Months of Inventory: an astonishing doubling of the resale market inventory to nearly 9 months in CPW shows that the market may be saturated with new listings that are growing stagnant. While Irvine and the zip code inventory has also double, it was relatively low to begin with and is just getting back to normal levels. If you are looking to buy a new home in CPW, now may be a good time to buy if you are in the market for a good value.
Average Time on Market: The time that it has taken to actually close on resale homes sold in CPW jumped 33% in terms of the number of days that it took to sale a home, but not quite as much time as in took in the 92612 zip code. All market indicators show that it took significantly more time to sell a condo in the most recent 12 months than in the prior year.
Average Price per Square Foot: Prices per square foot in the CPW resale market were up a whopping 14% compared to the overall market. OC and Irvine general were up ever so slightly at ½ % while the overall zip code is down almost 2%. Ask prices per square foot could certainly be driving performance in some of the other market measurements. Sellers may simply be holding firm to get their desired price.
New Listing Inventory: New listings for the last 12 months doubled to a total of 70 listings while Irvine and the 92612 Zip Code were up only 8% and 15% respectively.
Sale Price to Original List Price: The sales prices as a percentage for CPW compared to the original list price has fallen from the previous two annual cycles and trails the general market trends in Irvine and the 92612 Zip Code.
Summary: It's a Buyer's Market in CPW
- Average sale prices down nearly 12%
- Inventory doubled to almost 9 months
- Time on Market up 33% to almost 2 ½ months
- Average price per square foot up 14%
- New listings doubled
- Discount percentage on purchase price is up to almost 6%
3 Year Average Resale Price Summary*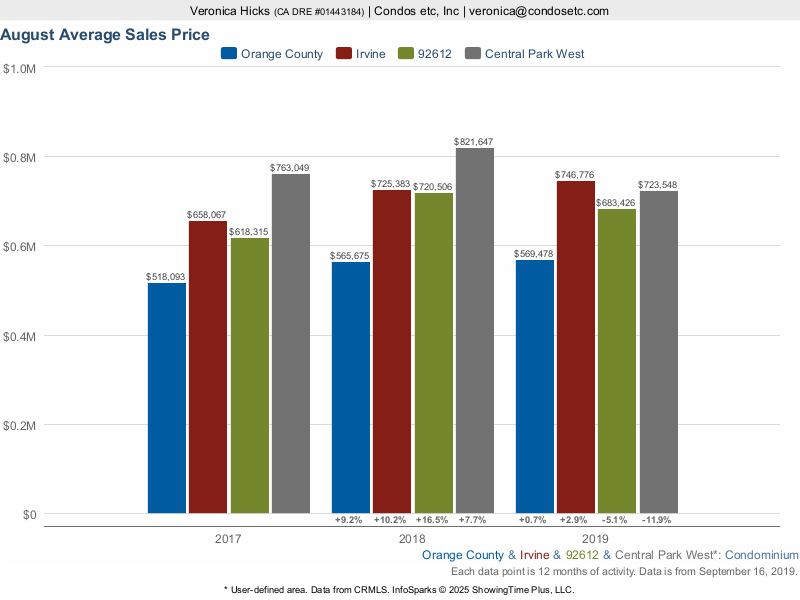 5 Year Pricing Trends*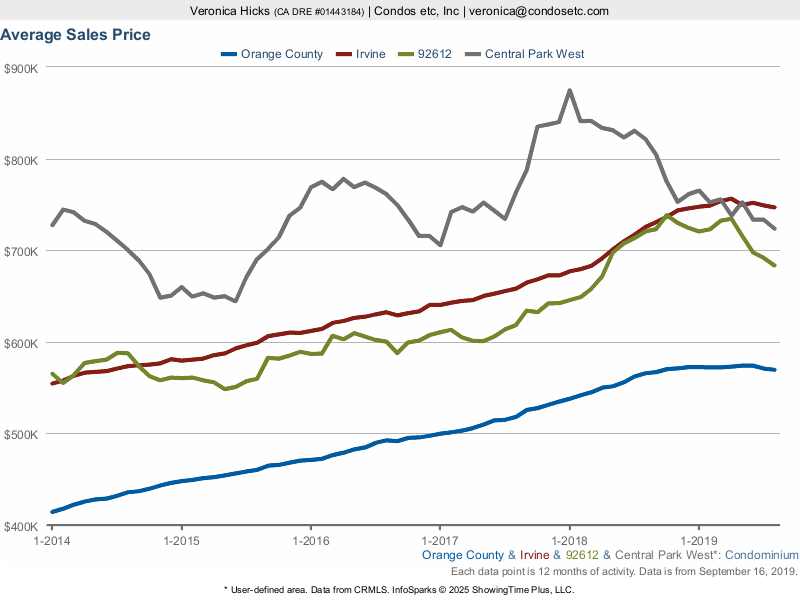 3 Year Resale Inventory Summary in Months*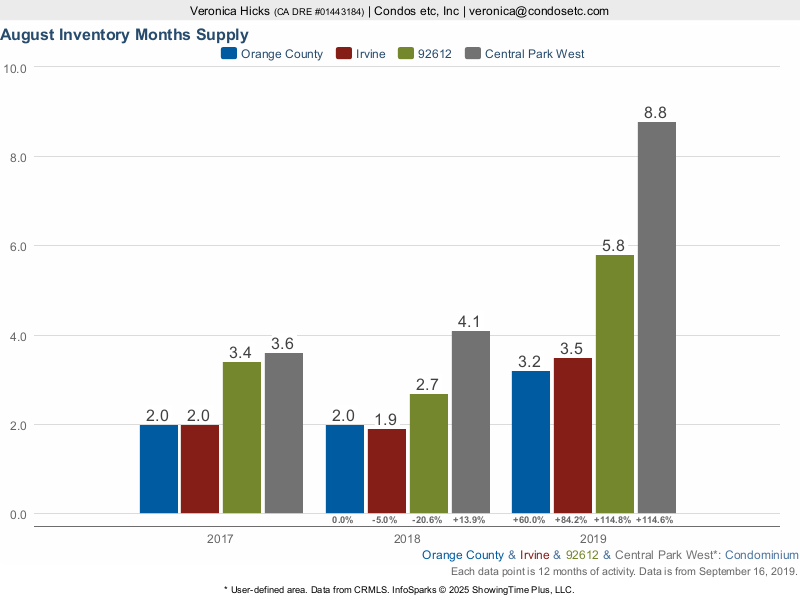 5 Year Resale Inventory Trend*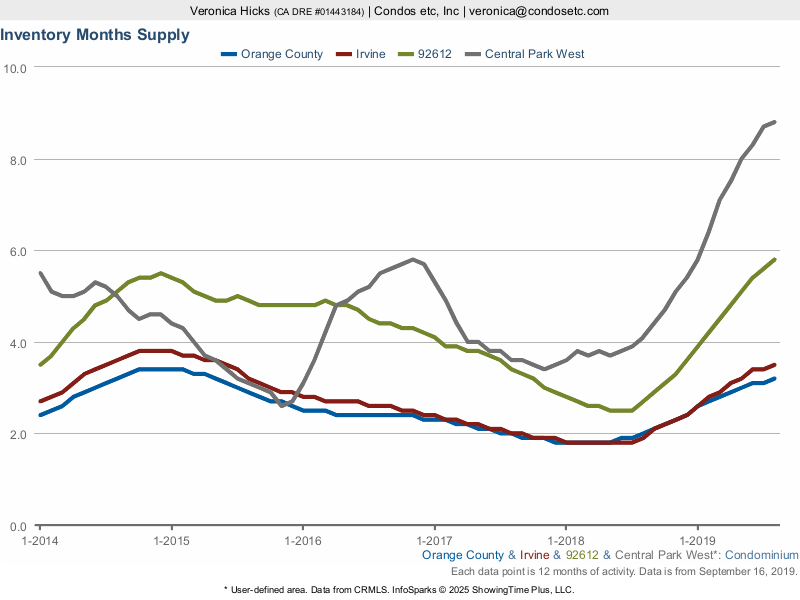 3 Year Resale Time on Market in Days*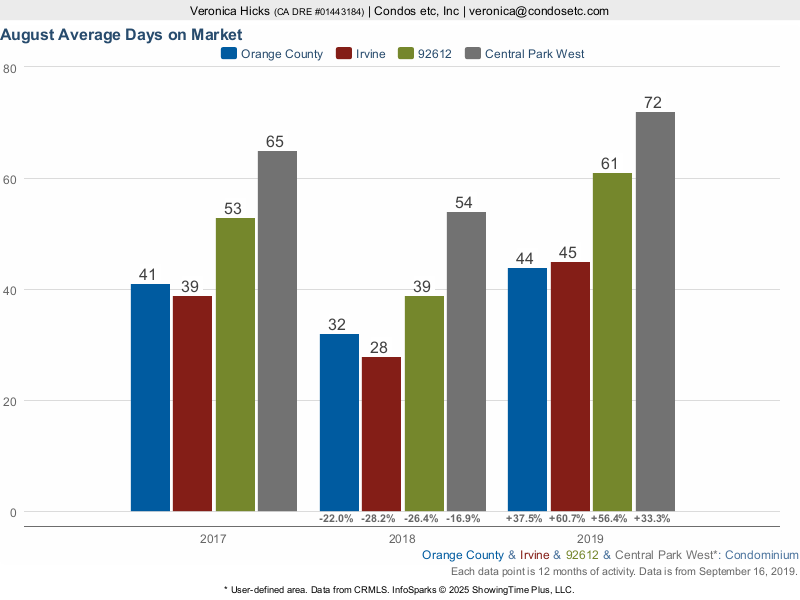 5 Year Resale Time on Market Trend*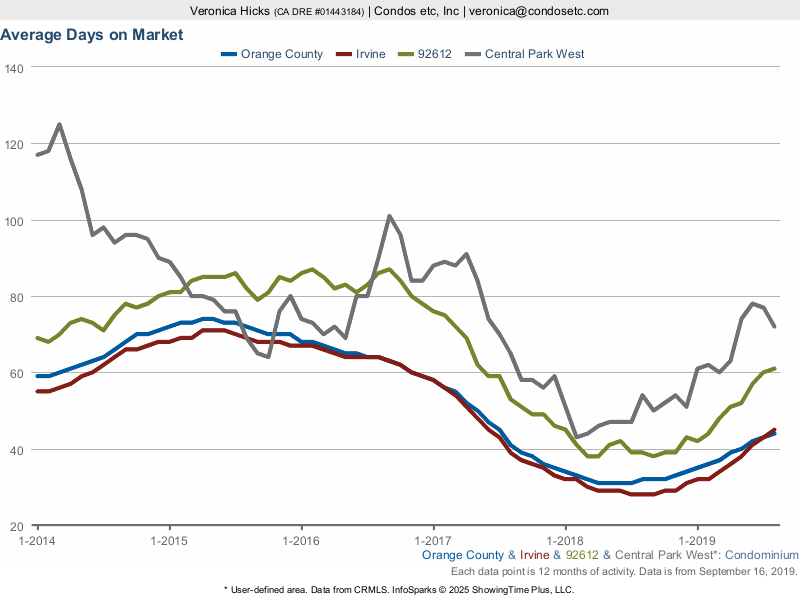 3 Year Resale Price Per Sq Ft*
5 Year Resale Price Per Sq Ft Trend*
3 Year Resale New Listing Summary*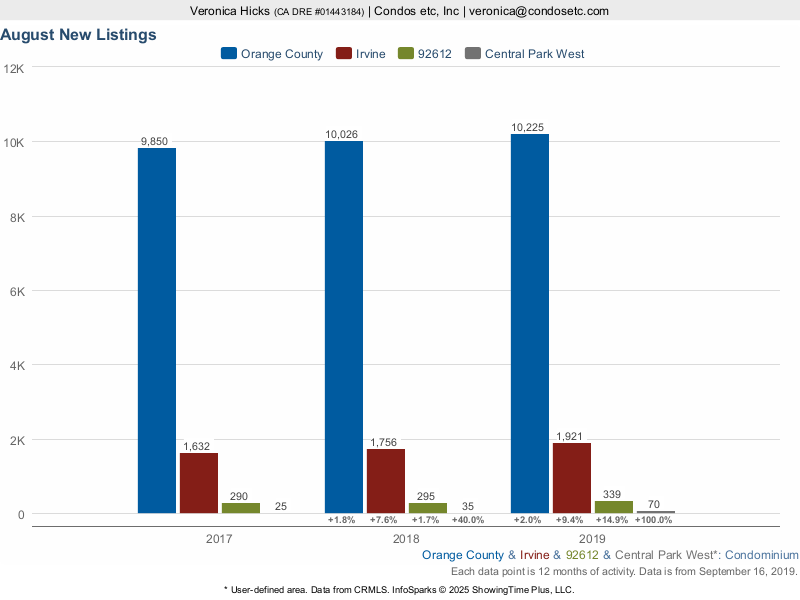 5 Year Resale New Listing Trend*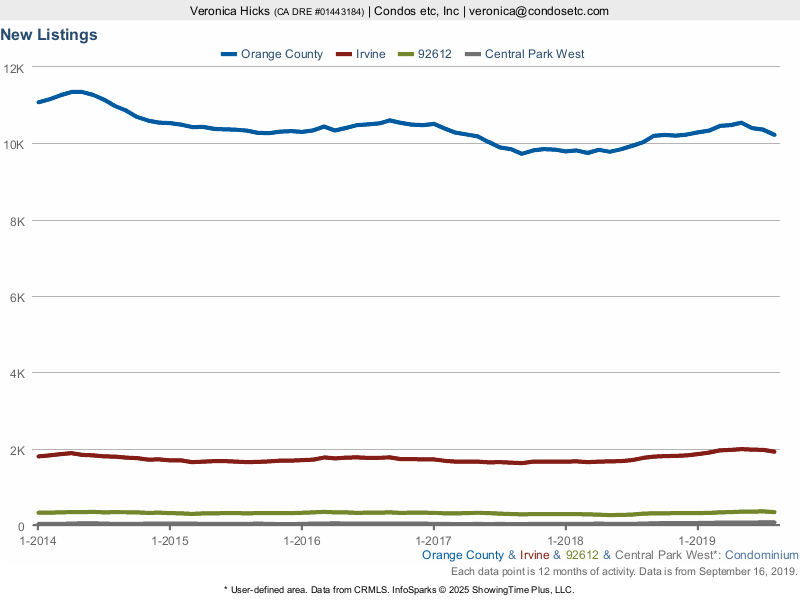 3 Year Resale Sales Price to Original List Price*
5 Year % List Price Trend*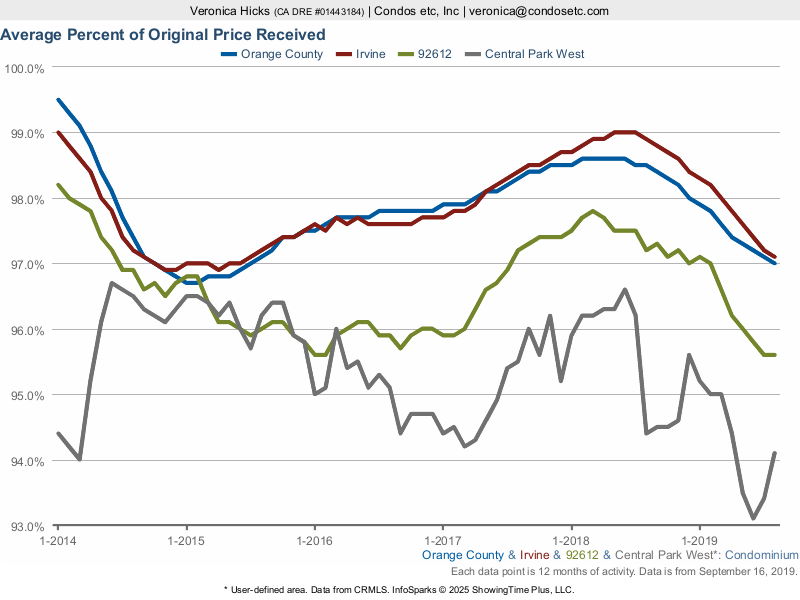 * Stats used in the market update were obtained from homes listed in the CRMLS. The trends shown are estimated and should be verified. Statistics used are based on 12 month rolling averages and not median prices.
Free Market Analysis
If you would like a free analysis on the sales price of your home or if you are thinking about buying and aren't sure about the market, please contact me for a complimentary assessment and market overview.